For over 20 years we have been beating the banks and the competition by providing the best exchange rates, with no hidden fees or commission. We specialise in all aspects of currency exchange for private individuals and businesses of all sizes. For security and protection we are regulated by The Financial Conduct Authority and HM Revenues & Customs.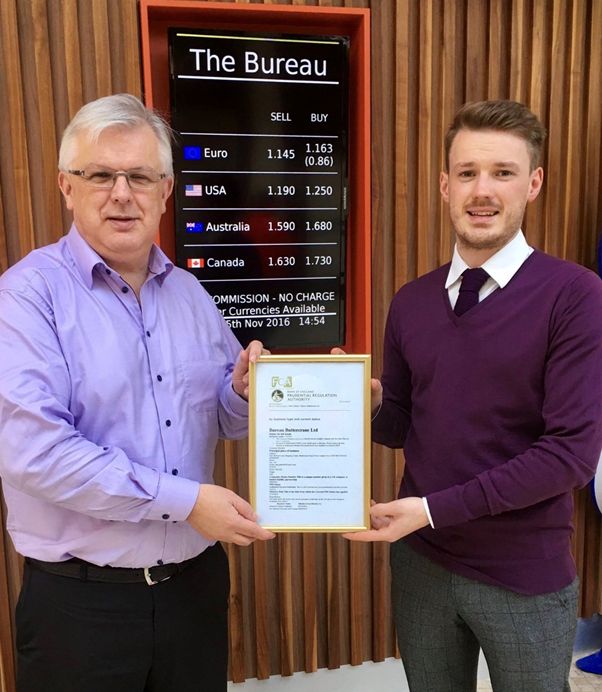 Left: Owner John Gildea and son, Colum Gildea pictured receiving the Financial Conduct Authority's Approval to carry out payment services as an Authorised Payment Institution (Firm reference number 747167).
"The Bureau Buttercrane provide a personal service that really sets them apart from other currency providers. If we need a fast transfer we know we can call or email and have confidence our business will be transacted straight away at the best available rates."
"We use Bureau Buttercrane for the best exchange rates, fast online transfers and great customer service. We wouldn't hesitate to recommend Bureau Buttercrane as a first class currency exchange provider."
"I always recommend Bureau Buttercrane for currency exchange, I have been changing money with them since 1995. They always provide the best exchange rates and the staff are helpful and friendly. An exceptional service every time!"
"As a firm that operates both sides of the Jurisdiction, we at Luke Curran Solicitors have no hesitation in recommending The Bureau, Buttercrane to our Clients, for a professional and efficient service. A truly trustworthy company to do business with and we can not recommend them highly enough."
"Great personal service with top class rates, we always exchange our currency with The Bureau Buttercrane."
"Great rates, friendly staff and a pleasure to do business with. That's why we wouldn't go any where else."